For ten years I taught classes at my church on The Grieving Process for adults who had recently experienced a personal loss.  Ironically, many of these adults suddenly realized that they were also still dealing with hurts and losses from their childhood.  It was then that I began to see the importance of building a foundation for children at an early stage in life to help them cope with losses. This was confirmed to me when the children's church pastor of my church came to me and asked if I could put together a class for children in his services who were hurting as a result of a loss in their life.  Upon completing his request, I realized that something needed to be done for children outside the walls of my local church.  Now, some 6 years later……
I am pleased to announce that
Helping Hurting Children: A Journey of Healing
has been birthed for publication.
Two books were written to assist in helping hurting children. A 174-page Children's Workbook and a 58-page Adult's Reference Guide.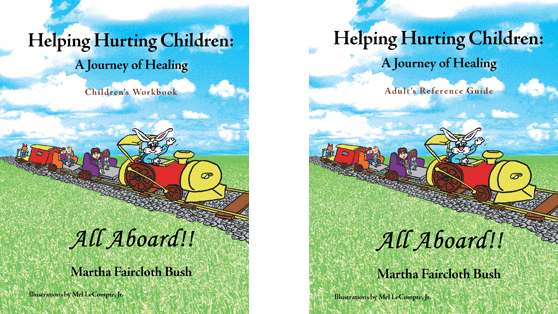 The Children's Workbook, based on Biblical principles, is designed to teach the basic concepts of grieving.  Along with the grieving concepts taught in each chapter, a Bible story is given, followed by activities for the child to work through to help break down those walls children sometimes put up after a loss.
✞✞✞✞✞
Download
"Suggestions for Using the Childrens Workbook" (PDF)
To download, click PDF button, then click download arrow at top-right of PDF and select "Save"; or select "File" from tool bar, then "Save As" or "Save Page As" and save to location of choice.
✞✞✞✞✞
The Adult's Reference Guide is to enlighten the adult to a child's emotional state of mind during a time of loss in his life.  It serves as a hands-on tool to assist parents, grandparents, children's ministers, school officials, lay counselors, or any caring adult in implementing the fundamental principles need in helping a child find healing from the emotional scars of losses.
The books can be used in one-on-one situations or in a classroom environment such as schools or churches. The reading level and activities are appropriate for children ages 7 through 12,

but can be adapted for older or younger children.
Five fictional kids who have experienced their own losses will be traveling along with us on our Journey of Healing, and everyone's friend, Bubby the Rabbit — that's him over on the right — is constantly popping up with encouraging words, as well as tips on self-esteem.
✹✹✹✹✹
The books are available through my publisher, Westbow Press, a division of Thomas Nelson, as well as Amazon, Barnes and Nobles, and many other retail outlets. Books are available as of March 13, 2013. To purchase, click the "Where to Buy" tab in the menu bar above or the link in the right sidebar and choose your preferred online retailer.  Should you have any questions, please contact me using the form in the right sidebar.
"Children suffer various losses during their childhood with little or no knowledge of how to cope with those losses. As children grieve differently than adults, the normal grieving responses may not be recognized; consequently, children are often left to deal with their grief alone. I am pleased to recommend this resource as an easy-to-use guide for those parents, grandparents, children's church leaders, or others who desire to help, but who may have felt powerless or unsure as to how to do so."

Virginia G. Johnson, Licensed Professional Counselor
Credentials: LBSW, LCDC, M.Ed. LPC
I was interviewed by Sudie Landry of Louisiana Heart Beats in June 2013. The following video was aired the last week of June.